Picture the scene:
3 minutes. 9 Nodes. Thousands of B-coins. Millions of dollars, just begging you to claim them! And all you need to do is smash through a few Code Gates, download the Core ...

Oh, and find a way past the
tiny
fragile nodes protected by those
HUGE
damage Security Nodes.

Try the Sweeper Combo, specifically, the ever powerful

Shocker

coupled with the increasingly popular

Shuriken

! It's the perfect 1-2 combination for taking down groups of nodes. Stun every node that's connected and WHAM, take them down with a flurry of shurikens, ninja-style! Boom, bitch!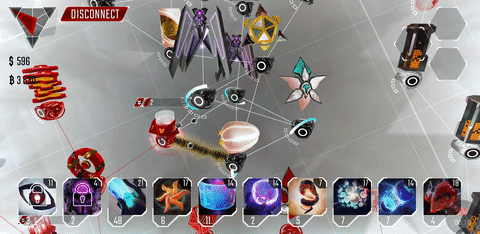 If you're expecting the node to be recaptured, are going up against higher level Security Nodes, or you're taking lower level Shurikens to the party, simply pop a Protector down in place of a Shuriken and you'll be good to go!

Not only does this combo work against groups of Security Nodes, it's fantastic on Guardian chokepoints which have resources on all four connections as shown above. Can you say "Cha-ching!?"